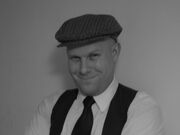 Gregory Z. Cooke is one of the long haul members of Decoder Ring Theatre. When the original, very silly episodes of The Red Panda Adventures were recorded, Gregory was there voicing Baboon McSmoothie - he reprised the role in episode 24 of the new series.
Among his other roles for Decoder Ring Theatre, Mr. Cooke recorded one of the advertisements for FastAndSimpleWeightLoss.com, which played on the show during season 3.
Ad blocker interference detected!
Wikia is a free-to-use site that makes money from advertising. We have a modified experience for viewers using ad blockers

Wikia is not accessible if you've made further modifications. Remove the custom ad blocker rule(s) and the page will load as expected.