From the pages of the award-winning graphic novel series comes Chris Schweizer's The Crogan Adventures! Join us as we follow a line of heroes, villains, grifters and rogues - one extraordinary family's journey through history! This episode, gunfighter Pyjama Ben Crogan has stared down death and danger with a quick draw and a fine moustache... but he has never faced an opponent quite like The Heart of Mabel Cottonshot!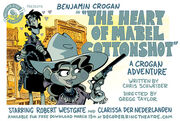 Coming Soon!
Coming Soon!
Coming Soon!
Episode Page - http://www.decoderringtheatre.com/shows/showcase/crogan-adventures-1-heart-of-mabel-cottonshot/
Ad blocker interference detected!
Wikia is a free-to-use site that makes money from advertising. We have a modified experience for viewers using ad blockers

Wikia is not accessible if you've made further modifications. Remove the custom ad blocker rule(s) and the page will load as expected.